For my work I regularly commute from Milton Keynes to London, a 35-65 minute train journey (depending on the train I get).
Just like how when my Dad was a field engineer driving around the country learning the tricks, traffic patterns, and back-roads, I've gathered my own knowledge and tricks from my regular journey.
The requirements for tools and information for commuters are very different to those for infrequent travellers. Commuters mainly need to know just enough information to make their own decisions about their journey, because they are great recognisers of patterns and behaviour. A lot of apps and websites cater towards people travelling infrequently, over long journeys, looking for the cheapest ticket available. These are not requirements for me.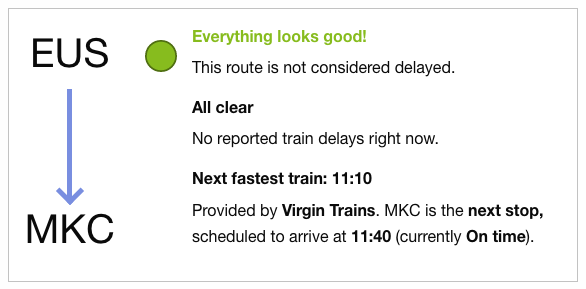 With that in mind, I created Traintrack. Traintrack is an opinionated service specifically designed for someone regularly travelling a rail route who needs to know at all times how the route is doing to help them make decisions about when to travel and to help them know what their travel is going to be like.
At a glance it shows you:
Whether the route is OK or not.
How much the next few trains are delayed by.
What the next fastest train is.
The next few departures on your route, including their arrival times, number of stops and any delays.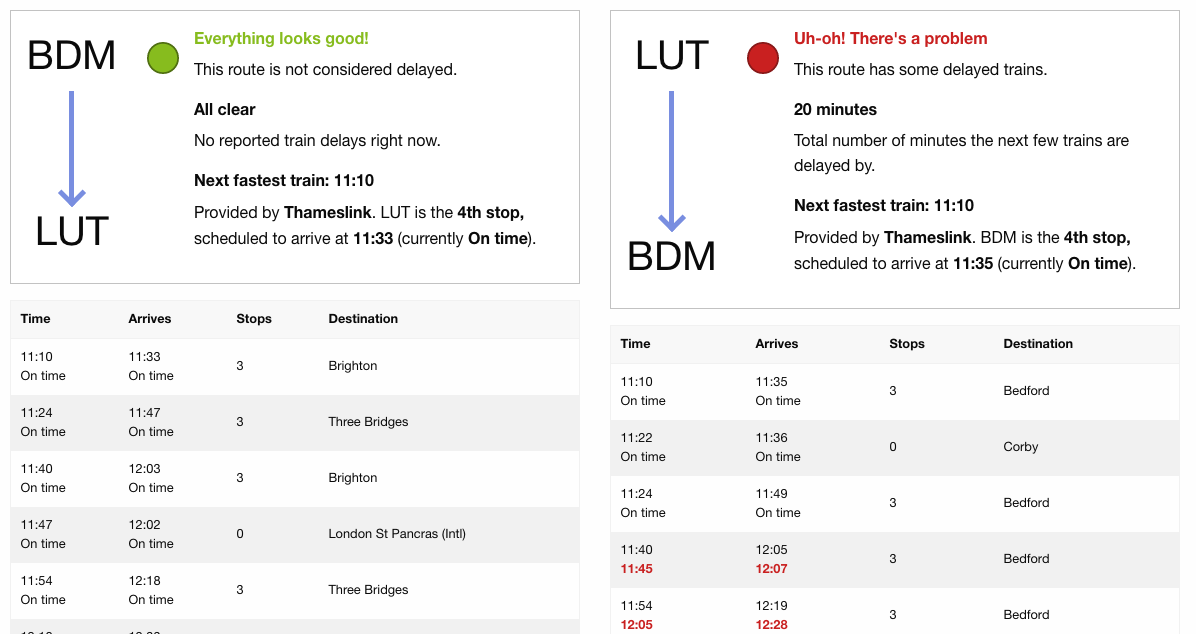 It also shows you this for both directions at the same time. This is something I wanted myself because in my experience if one direction of my route is delayed it's probably going to have a knock-on effect on the other direction later on in the day, and so I can plan accordingly.
I have a few ideas for future features, including:
A 'probability platform', e.g. the platform the train is likely to depart from based on historical data (as National Rail like to withhold the platform info too far in advance).
'Distance to station' setting so that instead of the next fastest train, it can show you the next fastest train that you could get if you left for the station right now.
Exposing service announcements intelligently (a lot of service announcements aren't about delays, so they should be treated accordingly).
The app itself is built using the Huxley API, which is a convenience wrapper around the nasty National Rail APIs, and also conveniently has just enough data to show the information I wanted. Winning!
Let me know what you think!